Services
Superior Performance
A Superior Performance professional will monitor the cleaning of threads and the removal of thread protectors while in the pipe yard.
A knowledgeable field operator will inspect seals and threads on all new and used premium threaded connections as well as looking for any visible pipe body damage.
Ready for the Field
Field Service Supervisors
A Field Service Supervisor will monitor the makeup of accessories in the yard and ensure all connections are properly prepared for running in the field or to be stored. They will be sure that the makeup graphs meet the acceptance criteria of the pipe manufacturer. A Field Service Supervisor will also ensure the proper makeup torque is applied to each connection and that makeup graphs are acceptable.
Our Field Service Supervisors also make sure all completed assemblies have thread protectors re-installed prior to being loaded into the basket for shipment to the rig. If requested, our professionals will also supervise bolstering, loading and unloading of tubulars.
At the Pipe Yard
In the yard, a field operator will:
Inspect the metal-to-metal seals on both the pin and box
Inspect the threads and connection IDs for damage, pitting and corrosion
Repair damages found on connections, if possible
Mark non-repairable joints with a red band
Prep the connection with dry moly coat or dope, as required
Supervise the re-installation of thread protectors on the pipe
AT THE RIG SITE
Our Field Service Supervisor will meet with your site supervisor and review what pipe and accessories will be run into the well.
When at a rig site, a Superior Performance expert will verify:
All pipe and accessories to ensure proper size, weight, grade and thread type and to ensure that threads are properly prepared for makeup
Running order of pipe and accessories
Stabbing guides are correctly sized and that any crossovers to be used are the correct size, weight, and connection
Elevators and slips are the correct type for the pipe being run and are sufficient capacity to safely perform as needed
Discuss with tong company to ensure power tongs have sufficient capabilities to exceed maximum torque
Check torque gauge for calibration
Meeting is held with Rig Site Supervisor, Tong Company Personnel and/or Torque Turn Company personnel to ensure the pipe is run to the manufacturers specifications, torque values and pipe manufacturer running procedures are reviewed to ensure everyone is on the same page
The running procedures with company supervisor, tong company personnel and rig crew prior to beginning operations
After the Job
Service Reports
A Superior Performance Field Service Supervisor will complete a service report and supplemental forms to provide details on the activities performed and recommendations for changes to improve future operations.
PREMIUM THREAD INSPECTION SERVICES
Our field service supervisors visually inspect seals and threads on new and used premium threaded connections, look for pipe body damage, and ensure connections are properly prepared for running in the field or to be stored.
At the rig site, field service supervisors will ensure that casing and tubulars are properly prepped for running in addition to the other tubular management services they provide.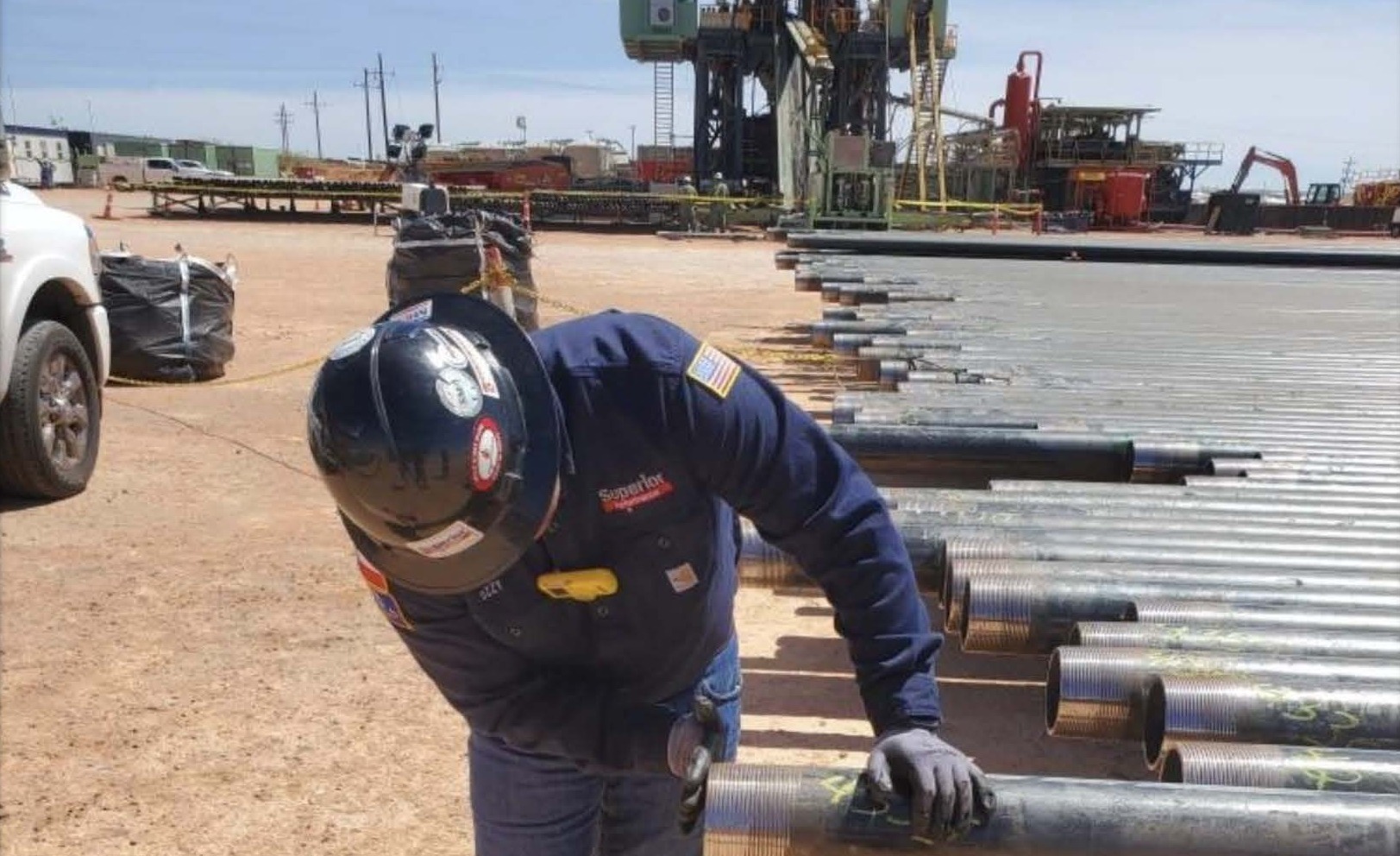 TUBULAR MANAGEMENT
You can rest assured that Superior Performance Field Service Supervisors will get your connections made-up properly while delivering the highest quality tubular management service in the industry.
It is the philosophy of the Superior Performance field service supervisor that all thread aspects are their responsibility. A Field Service Supervisor will never turn their back on connections that have not been doped correctly or connections that are not made up to the manufacturer's specifications.
We are ready to assist in all aspects of your tubular needs!